It's not everyday I cry, people.
I'm one of those people, who are extremely emotional, but almost never cry?? I mean, I can bawl out and scream on the inside, but on the outside I'm equivalent to a piece of paper: blank.
Ever since the #MeToo campaign started, more and more people are starting to speak up and share their stories about sexual harrasment, abuse, and misconduct. It's a really big topic going on; especially in Hollywood right now, and really, it's amazing to see how people are standing up against it.
To be honest, this has got to be on my top reads for 2018 (again 😅) This has been sitting in my drafts for about a month?? #shameless I'm really excited to kasdjf;asdklfjas about Exit, Pursued by a Bear, and rant about how amazing E. K. Johnston is, because we totally need this positive vibe right now.
Let's dive right in, shall we? *hup*
// sypnosis //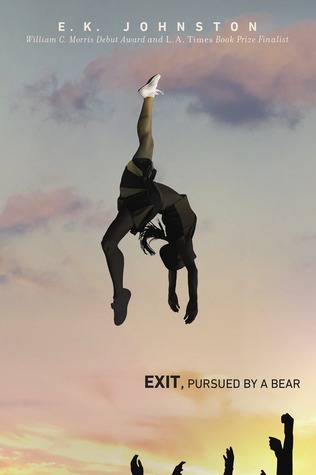 Hermione Winters is captain of her cheerleading team, and in tiny Palermo Heights, this doesn't mean what you think it means. At PHHS, the cheerleaders don't cheer for the sports teams; they are the sports team–the pride and joy of a small town. The team's summer training camp is Hermione's last and marks the beginning of the end of…she's not sure what. She does know this season could make her a legend. But during a camp party, someone slips something in her drink. And it all goes black.
In every class, there's a star cheerleader and a pariah pregnant girl. They're never supposed to be the same person. Hermione struggles to regain the control she's always had and faces a wrenching decision about how to move on. The rape wasn't the beginning of Hermione Winter's story and she's not going to let it be the end. She won't be anyone's cautionary tale.
(click on the cover to go to Goodreads!!)
Defies the sterotypes for cheer/cheerleaders
This is definitely a big one. I'm really not sure why, but stigma is that cheerleaders are all high ponytails, popular, dating football players, so forth, but E.K Johnston really takes us into the reality of cheer. Honestly, I was SO happy when there were boys on the cheer team, because there's no such thing as "pink is for girls, and blue is for boys". I love it when books and media nowadays represent non-stereotypical views in genders 🙂
I'm getting off topic whoops
Though it does tackle serious topics, it's not explicit
Usually I just skip over the *cough* (let's stay PG-13 here), and I was a little hesitant when picking out this book, but dear me Johnston delivers the message accurately and non-explicitly. So thank you.
Can we just take a moment and scream about how aesthetic the book cover is?? The sunset the silhouette the clouds the flyer the EVERYTHING ahhhhhhh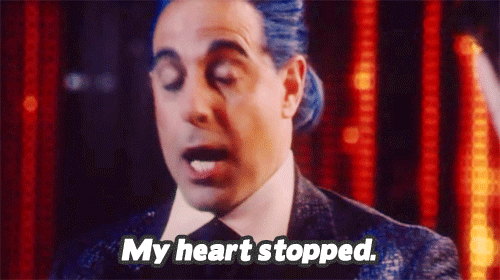 Again, a tad bit tying into the first note, I feel like it didn't go far off into fantasy world – it talks about real life issues, no extra drama, which was a thank goodness moment. I absolutely hate dislike it when people/books/movies/everything stretch the truth and exaggerate too much?? Or is it just me.
friendship/sisterhood #goals
The way Hermoine and Polly omg I CANNOT COMPREHEND. I love love love them so much and when they said "I love you" just before Hermoine went into the abortion centre I BROKE on the inside.
It got a teeny bit repetitive in the middle
It kinda was a smol bit slow near the middle; it dragged on too long for my *cough* taste.
To be honest, a TOTAL DISAPPOINTMENT. I was looking forward to the accused rapist in court hearing and sentencing, but obviously it did NOT happen?? I'm not going to go any further and spoil a whole lot for you (so I can keep my head), but I literally ranted for an hour after finishing the book. I'm crying.
"If you think I'm going to apologize for being drugged and raped, you have another thing coming."
"And if someone does figure it out and starts a rumour, we'll just deal with it," Polly says. "What doesn't kill you, makes you stronger, and all that crap."
"Do you ever dream of the day when your life can no longer be adequately summarized by Kelly Clarkson songs?" I ask.
"All the time," Polly says."
"I know it wasn't my fault. And no one has ever suggested that it was, but that's what everyone thinks."
"I'm not going to quit."
"Maybe this would be easier if I acted like I am broken. Then they'll be able to fix me. You can't fix something that doesn't know it's broken."
Overall, this was an AMAZING book. I kinda don't like it when all my reviews are "I love it" or "5 star", but I'm being honest here, and I'll just have to go with it 😅 And sorry you'll have to suffer this review too… but I have another one coming up that may change this streak *wink wink*
So.
I actually picked up this book about an year ago or two, but I was, let's say too young, to really get it, and take on such a serious topic. I'm SO glad I decided to read this a few weeks ago; it gave me a perspective on sexual abuse, rape, the recovery process for the victim and their family and friends. I am thankful that I have never encountered these types of abuse, but I do know someone that is very close to me that has. Thank goodness it wasn't serious, but it still does kinda hurt when someone would want to hurt someone that I care about really much.
I'm saying "someone too much". Really.
Verdict
Definitely a solid 4.5/5. Saving this up to my Goodreads.
---
Second book review is down!! Have you read Exit, Pursued by a Bear? Your thoughts on YA books tackling serious topics? Which one was your favourtie quote? #TimesUp
Pstt.. I can't believe it either… but 2 days 'till 1 year blogiversary!!