Hello loves! *waves into the void known as the blogosphere* How are you all? June has been a pretty good reading month for me – with school starting to dwindle out and summer approaching, I have more time to actually be a bookworm for once 😂
I don't know why, but book reviews are honestly one of my favourite types of posts to do. I'm always in dire need to add more books to my never ending TBR list, and connecting with fellow book lovers is always an amazing thing. Today, I'll be talking about my thoughts on Three Dark Crowns by Kendare Blake. I have a feeling that this post is going to be really interesting…
I know that I missed my Saturday post – I'll be talking about that near the end of the post.
In every generation on the island of Fennbirn, a set of triplets is born—three queens, all equal heirs to the crown and each possessor of a coveted magic. Mirabella is a fierce elemental, able to spark hungry flames or vicious storms at the snap of her fingers. Katharine is a poisoner, one who can ingest the deadliest poisons without so much as a stomachache. Arsinoe, a naturalist, is said to have the ability to bloom the reddest rose and control the fiercest of lions.
But becoming the Queen Crowned isn't solely a matter of royal birth. Each sister has to fight for it. And it's not just a game of win or lose…it's life or death. The night the sisters turn sixteen, the battle begins.
The last queen standing gets the crown.
(click on the cover to go to Goodreads!)
What's really intriguing about this book is that even though there are 3 POVs, it actually feels like there are 4 main characters. Jules is basically Arsinoe's best friend, but she actually develops her own "plot"-ish.
Arsinoe
I was really happy with Arsinoe, overall. I love female characters who have a strong personality and will speak up for themselves. She doesn't succumb to anyone trying to force her onto a single path – Arsinoe fights back and stands strong in what she believes. Honestly, the world needs more of these YA characters in books – she's a badass and I love it.
Mirabella
Seriously – I did NOT like her for several reasons. One, being, that girl, you need to stand up for yourself!! Don't allow other people to push you around. And about that scene with Joseph… yes another valid reason why. According to an Inexperienced Professional™, you do NOT fall in love with someone overnight. How. Is. It. Even. Possible.
Katharine
She's also not one of my favourites- to me, she doesn't really have a fully developed "character". And the fact that this other "guy" who was supposed to "teach" her how to be flirty and all with other suitors ends up with a "forbidden love" thingy with her. I really can't stand these types of people, and then this ends up in a love triangle, which I HATE. I know that this isn't technically much related to Katharine, but if she could have gone with what she had wanted and made up her mind, I wouldn't be sitting here right now, typing pounding the keyboard.
Jules
She is, literally, like my CHILD – I love love love her. Sweet, beautiful, kind, strong – she's like EVERYTHING. Such a strong potato; love her. If anyone tries to hurt her, I will personally challenge them to a duel.
I really don't like books when it rushes or drags on scenes, but overall, Three Dark Crowns is paced pretty well.
Alternating POV in books is a real love-hate relationship with me – either I love it to death, or I want to hurl the book all the way to the Mediterranean Sea (it's very far). Thankfully, I don't have to exert much energy into this one because the POV wasn't confusing at all!!
I. Officially. Have. A. New. Ship.
*cheers* These are basically one of the best moments that a fangirl lives for, agreed? I mean, Jules and Joseph are like meant to be with each other, but I also really hate him?? (see rant below). She deserves a better person, but then in the end when a major plot twist happens, something happens to Jules and then he swears that he will never leave her again. So I am utterly confused, and currently have 2 emotions. One, being that I ship ship ship them, but the second one is that I want to beat Joseph up.
Alas, the very difficult lives that fangirls have to face daily. *shrug*
I know this is the fangirl part of my soul kicking in, so if you are not immune to my rants, I suggest you skip this part because I care about your well being. For some extra space if you'd like to skip this:
===
===
===
Joseph cheating on Jules and turning to Mirabella
I am SO angry at Joseph like WHO DOES HE THINK HE IS. Jules has waited literally a lifetime for him to come back, then blah blah blah* happened… and then poof, it all turns into dust. Who are you even?! At first, my fangirlerosis (yes it's an actual thing) symptoms appeared to like what any fangirl would understand – a new ship! I was like "yasss I am shipping them 100%" *crosses arms defiantly*
Then chapters later while I'm still enjoying this sweet sweet thing, then all of a sudden HE TURNS TO MIRABELLA. SERIOUSLY. You JUST literally confessed TWO freaking days AGO to your childhood best friend whom you haven't seen for years, then this happens?? To be honest, I have a soft spot for childhood bffs then turn into a relationship couples *coughDeTeCtIvECoNaNcough*, but this was an ABSOULTE utter disappointment. How DARE he treat my child like that.
Seriously: if I can hop into this book and see Joseph I swear I will hunt him down and knock the lights out of him.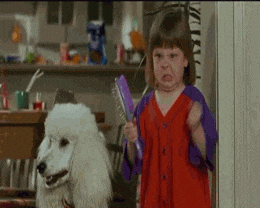 *me trying to not spoil things for you while trying to contain my anger
the beginning was quite slow 
Overall, like I said, the pace of the plot was pretty good, but the beginning dragged a little bit, if I may say. If you don't have a lot of patience, this may be a struggle. It was hard to really "get to know" the characters in the beginning, also.
No actual sisters murdering one another
When I first saw the quote:
"Three dark queens
Are born in a glen,
Sweet little triplets
Will never be friends

Three dark sisters
All fair to be seen,
Two to devour
And one to be Queen"
I knew I just had to pick up this book. Who doesn't like to read about sisters murdering one another?! no one Okay still – it just sounded so… eye-catching if I shall say. But there were NONE of that in the book, and my poor potato heart cried in disappointment. I'm really hoping that the next book will have some of that or else my heart will break. Seriously.
"Every gift is light and dark."
"No one really wishes to be a queen."
"Her whole life they have thought her a failure, yet at the first hint of hope, they move to follow her, as if it is what they wanted all along.

Perhaps it was."
"It would be sweet to be cared for despite her faults, and to be wanted for her person rather than the power she comes with."
I'm definitely looking forward to Book 2 of this series!! It has a lot of characters which tends to be confusing, but I'll somehow manage it XD I can't wait to see what happens to Arsinoe (major plot twist in the end), if the sisters will really try to kill each other, and what happens to Jules and Joseph.
Final verdict?
★★★★☆ (3.5)
Well, my dears – all I can say is that this would make a very interesting TV series. Just saying…
A quick side note: I know that I said that I am trying to post according to a schedule, but right now I have to put it off for just a bit *sighs collectively* It's just really busy right now, and I feel like I'm unable to keep up to that commitment for now. The posting schedule really adds more stress to blogging, and I don't want it to tarnish my love for the blogosphere and blogging in general ❤
I'll keep you posted when things are settled!
---
have you read Three Dark Crowns before? is yes, did you like it? are you planning on reading this? what was your favourite quote? if you have read this, do you want to team up with me to knock the lights out of Joseph? comment away!!