This past month went by like the snap of a finger. Meaning, really fast.
I feel like it was just yesterday that I was screaming about the last day of school and the first day of summer break. So far my summer has been amazing – I did so many things, and it was one month I was actually productive 😂
Today I'll be doing a wrap up of July and what I did for the first half of summer. Let's dive right in, shall we? *hup*
+ back on blogging schedule
I am SO happy that I got back on it – I feel way more organized, and seriously, I now realize that I need it in my life *laughs* I feel quite good with the one I have now, but I'm not sure if I have to change it up when school starts back up again, considering that my upcoming year will be much busier. Although, so far, it's been really good, and I hope that it'll stay that way 🙂
+ lots of new post ideas
Another thing I am really happy about with blogging right now!! I now use a Google Docs file to keep all of my ideas and whatnots. Sometimes I feel like I love charts and lists a tad too much tho smh  \_(ツ)_/¯
+ WordPress works again 
Alas the THIRD thing I am happy about… in fact ECSTATIC because WordPress works again! For almost a month, somehow my posts in progress doesn't save and deletes sections or even the whole post itself occasionally, which threw off my blogging schedule. But I am glad to say that it's all good now.
+ Romaji vs. ひらがな (Hiragana)
Since I use quite a bit of Japanese here in my posts, for now on I'll be using ひらがな (Hiragana) instead of Romaji. I'm learning Japanese now, and I'm focusing on ひらがな so I think that it'll be better off that way. But, I'll still put the English translation in brackets!
s t a t s
Views: 391 // Visitors:  159 // Likes:  145 // Comments:  90 // Follows:  WordPress 242 + 4 Email
p o s t s   t h i s   m o n t h
t o p   p o s t
a r o u n d   t h e   b l o g o s p h e r e 
+ My cousins came over!
Gosh it was so much fun!! They stayed at our home, and they went to a lot of sightseeing places in my city. On the last day, we all went to a local sea-side market, where we got black tea and German weiners. The indoor building was vintage, and basically like a traditional market; AESTHETIC oh why do I have to connect that with everything in life
+ We also went paddle-boarding
It's one of my favourite sports – basically paddle-boarding is where you stand on this board thing and paddle with an oar. It was so stress relieving and peaceful – hearing just the waves of the ocean and our laughter. I actually saw a seal!! It's head was peaking out, and then it dipped back into the water. I have to go again soon!
+ Birthday month!!
Like I said before, I officially turned 1001 years old a few weeks ago. Yup, yours truly is a grandma 😂
+ Gymnastics injury 
This is TOTALLY not a notable part of my month, but still… I'm gonna talk about it 😂 Anyways, about 3 weeks ago right after I finished practicing gymnastics, my lower back felt kinda weird. Since I was (and is) a stubborn potato, I thought that it was nothing, so I kept on practicing the next day. Eventually it got worse, and about a week later I literally could not bend down, even 90°. I had to hold off gymnastics for a few days, and just when I thought that I got better, the moment I started jogging I pulled that back muscle AGAIN. I'm all good now, thankfully – *wipes forehead* except that I need to stretch a lot soon, so I don't loose it.
p l a y l i s t   f t .   m e h   e a r s
My ears were really happy this month!! I've listened to SO many new songs, and I've definitely found new favourites! Of course, Kimi e no Use is still here, so just ignore me *hides*
No Tears Left to Cry // Ariana Grande
Kimi e no Uso // Valshe
What I Need // Hayley Kiyoko ft. Kehlani
Tomorrow is the Last Time // 倉木麻衣 (Mai Kuraki)
シンクロニシティ(Synchronicity) // 乃木坂46
Hooked on a Feeling // Blue Swede
Secret of My Heart // 倉木麻衣 (Mai Kuraki)
I Want it That Way // Backstreet Boys
Middle // Zedd, Maren Morris, Grey
時間内に行動する (Acting in Time) // 乃木坂46
Back to You // Selena Gomez
サヨナラの意味 (The Meaning of Goodbye) // 乃木坂46
Haha in July I was too busy hanging around I believe I didn't read much *checks Goodreads* NOPE I ONLY READ 3 BOOKS.
YES I KNOW I AM ASHAMED OKAY
I mean, 2 of them were picture books, but they were both SO GOOD. Both talked about death and why we shouldn't feel scared of it – I honestly cried SO much. It really made me cry even more when my mom hugged me because since I was a young potato (5 years maybe?), I was scared of the people I loved leaving me one day. Anyways, I couldn't find the covers for them on Goodreads, so I could only show the only cover available.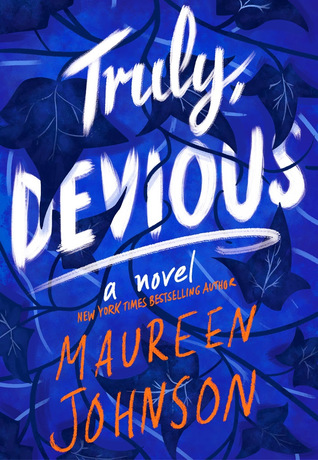 Truly Devious // Maureen Johnson ★★★★☆
Whenever I see a YA mystery/crime novel, I run towards it like my child. I love mystery books, and this one definitely didn't disappoint. Stevie Bell was amazing – her character profile was really clear, as if you could know what she say if I asked her a question. It was undoubtfully creepy, but in a good way. The plot was constructed pretty well – unlike some other ones. Overall, an enjoyable read – I'm screaming already as to why I have to wait so long until book 2's release.
r e c e n t l y   a d d e d
I'm officially 24 books behind on my Goodreads 2018 Reading Challenge *hides* Currently looking at my tbr list, I have more than 50 books waiting to be read, and I really don't know what I am doing with my life. Oh well, I mean I add about 2 books everyday, and that's totally achievable 😂
blog
keep up the good work and DON'T MOVE A HAIR OF YOUR BLOG DESIGN AGAIN 

YAS GOT IT

get back on track with blogging schedule 

Check

shorten urls 

Check 

get BACK into the blogosphere young lady 

… I could do better 
life
drink water water water 

YAS 

middle splits 

pretty good, but could be better

SIDE AERIALS 

nope *cries* 

work on hand

balancing improved 

increase back

flexibility improved 

learn how to cook 3+ dishes (so I can sustain myself in the future and not die) h

aha my future seems to be struggling
reading
read 4+ books again

lol what is this 

post 1 book review on Goodreads

stop procrastinating 

get a total of 45 books on 2018 Reading Challenge

*laughs at self* 

remember to turn on the fan when you're reading (aka hot weather alert)

check I AM SO GOOD AT THIS
blog
260 followers?!
keep on with blogging schedule
remember to shorten urls
respond to comments (I am failing miserably)
STAY in the blogosphere and don't hop out again
do that Q&A post ALREADY
life
get that side aerial ALREADY
over middle splits
learn a tilt
more hand balancing
drink at least 1 and 1/2 cup water daily
don't get a stupid strain from gymnastics again
enjoy summer
laugh more
reading
read 4+ books
update Goodreads
post 1+ book review on blog
+ Last month of summer
I know this is horrible *cries* Oh why does a month in summer feel so fast but compared to one during the school year feels forever? Someone might as well tell me 😂 Anyways, I hope to be happy more and really enjoy myself this last month.
+ Going to watch the newest Detective Conan movie
I am SO EXCITED!!! I just can't wait – in fact I'm going tomorrow and I can't even sit still. 名探偵コナン ゼロの執行人 (Detective Conan: Zero the Enforcer) was out I think on April 13th or something, and I've been waiting since. Ohhhh I really hope that it won't disappoint but I know it won't and the trailer is so tempting!!!!!
---
how was your month of July? how's summer so far for you? did you travel anywhere? did you fall behind with reading like I did unfortunately? your current fav song(s)? have you watched 名探偵コナン ゼロの執行人 (Detective Conan: Zero the Enforcer)? are you also a fangirl like me? Comment away!!