Hello friends! I don't know about you, but this past two months, I watched a ton of movies. Whether it's from Netflix or going to the actual theatre, I was introduced to so many new film genres. I also went to different types of theatres during the summer, like the modern Cineplex to a small 30 seat one in the back of an old government building turned into a museum.
Okay now I feel like I 👏 am 👏 literally 👏 killing 👏 the MOOD for movies, like it's supposed to be a happy thing but I turned it into an essay?? Now I'm rambling there you go Anyways, since this played a huge part of my summer, for today's post, I'll be sharing 7 movies that have changed my life! I know school started and all, but why not talk about movies? I haven't really done a post like this in a long long time, so I'm quite excited to see where that'll go!
Let's dive right into a sea of buttered popcorn, shall we? *hup*
*some synopses are horrible and cringy, but just bear with me (I know the pain)
Un Sac De Billes // 2017
                                                         Synopsis
This heartwarming adaptation of Joseph Joffo's enduring memoir tells the story of the Nazi occupation through the eyes of two young Jewish boys struggling to survive on their own. Paris, 1941: Joseph and Maurice are the sons of Roman, the local barber. At 10 and 12, the boys have so little understanding of the persecution of Jews that Joseph thinks nothing of swapping his yellow star for a bag of marbles. Despite their naiveté, Roman knows that their best chance to escape the Nazi roundup is to flee on their own to Vichy France, where their older brothers Albert and Henri have found safe haven. Always one false move from tragedy, these tenacious urchins survive on courage, ingenuity and more than a bit of cunning as they make their precarious way through France hoping to reunite with their family. More than anything, it's their brotherly bond that gets them through their ordeals. Patrick Bruel resonates as the Jewish family patriarch Roman, while newcomers Dorian Le Clech and Batyste Fleurial register an almost agonizing vulnerability as hapless innocents trying to outrun the barbarous machinery of war.
– credit
---
Yes, this was the one I watched at a cinema that once had been an old government building XD All I can say is that it opened my eyes. The relationship between the two brothers was just so unbelievable yet realistic. I guess if you have siblings, then you'd understand when I say that we hate them yet love them all the same.
When they were escaping through the mountains, when Joseph, the younger brother, injured his ankle, Maurice  – the older brother – told him that he'd carry him on his back. When Joseph eventually agrees, Maurice tells him that "I'm your older brother – I'd carry you to the end of the world" AND MY HEART BROKE.
As an older sis, it just felt like it was speaking right into me. I just can't believe how true it is – even though siblings fight and argue, they're still incomplete without the other. "A Bag of Marbles" just shows the bravery and trust between those two brothers, and how it basically helped them survive the terrible era of WWII.
おくりびと (Okuribito) // 2008
                                                           Synopsis
Soon after buying an expensive cello, Daigo Kobayashi learns that his orchestra is disbanding. Daigo and his wife move back to his hometown in northern Japan, where he answers an ad for what he thinks is a travel agency but is, in actuality, a mortuary. As he learns and carries out the rituals used in preparing the dead for their final rest, Daigo finds his true calling in life.
– credit
---
You'd probably know by now that it is almost impossible for me to cry, like my eyes don't even have that function at all. That means, if a movie/book can make me cry real tears, then it deserves an Academy 😂
I don't even believe this: I CRIED. SO MUCH. From start to finish, it was me handing over tissues to mom, then her back to me 😂 There was just so much truth and beauty in this movie, I can't even. The soundtrack is stunning, and it just made me cry even more.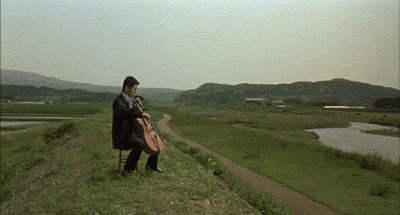 One thing that is always on the back of my mind is worrying if my loved ones die. To be honest, I don't really worry about when I die – but I can't stand the thought of saying goodbye to someone and seeing them for the last time on Earth. I mean, I know that I will see them in Heaven again, but it's still hard to cope with that thought.
After I watched this movie, it was like being able to breathe for the first time. Even though it was just for that day – I went back to worrying again the next day oops – it felt so good. It showed that death isn't a scary thing, and that we shouldn't be afraid to talk about it. Such a beautiful film, with a meaningful message ❤
Coco // 2017
                                                             Synopsis
Despite his family's generations-old ban on music, young Miguel dreams of becoming an accomplished musician like his idol Ernesto de la Cruz. Desperate to prove his talent, Miguel finds himself in the stunning and colorful Land of the Dead. After meeting a charming trickster named Héctor, the two new friends embark on an extraordinary journey to unlock the real story behind Miguel's family history.
– credit
---
Like what I said above for おくりびと (Okuribito), this really helped me with my worry on if my loved ones die. And once again, like おくりびと (Okuribito), I CRIED WATERFALLS yes plural because I have two eyes apparently
The storyline was so beautiful, and even though the beginning was a bit slow, it quickly picked up, and it had my whole attention until the credits started rolling. Even though this movie talks about death, it's not sad at all – instead, it gives one hope. Usually I don't watch animated films, but I am SO glad that I decided to give this one a shot.
That night when I went to sleep, I swore that I didn't feel this dull, heaviness in my chest like I do most of the time. Even though I went right back to my usual worry the next day, the rest of the day after watching "Coco" was surreal – for that few hours, this rock that had been sitting in my chest for more than a decade was lifted. If you haven't watched this one yet, DO IT SOON. It changed my life and perspective, and I'm sure it will do the same to you.

名探偵コナン 11人目のストライカー   ( Detective Conan: The Eleventh Striker) // 2012
                                                          Synopsis
A threatening phone call is made to Mori 's private detective office and a car parked across the street from the office explodes in front of Kogoro. A blue boy, a green zebra and rain are the clues left by the criminal. If the clues are not solved more explosions will follow. Kogoro and Ran keep investigating throughout downtown Beika, but can't figure anything out. Meanwhile, Conan Edogawa watches a football game with the Haibara private detective club. Tokyo Spirits is playing against  their main rivals Gamba Osaka. As the football game reaches its crescendo in excitement, Conan receives a phone call from Ran and hears about the ominous phone call made to Mori's office. Immediately, Conan begins to decode the clues alone and finds out a horrible truth.
– credit
---
Of course: if you've been reading my blog for a while now, you'd probably know that I am a HUGE fan of Detective Conan *inner fangirl activated* I have SO much love for all the movies and books, but what made this really special even though they were all my favourites? This was the first DC movie I watched.
I re-watched this for the third time this summer, and it just gets better each time. The first time I watched this was years ago, and that time I was still a baby potato and was scared to death 😂 Now, I understand the plot way better, and it's actually really meaningful. ALSO!! Very nerve-wracking, and Gosho Aoyama is pure genius, because each of his mysteries will get you on the hook until the very end.
In a nutshell, this one started my craze for DC. Except for this and any film by Studio Ghibli, I don't watch any other anime. Of course, the extra clip after the credits was hilarious; if you watched it, you'd know 😂 The ship though *screams* My heart is about to combust from over fangirling. JUST DATE WILL YOU.

The Truman Show // 1998
                                                             Synopsis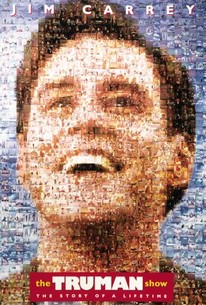 He doesn't know it, but everything in Truman Burbank's  life is part of a massive TV set. Executive producer Christof  orchestrates "The Truman Show," a live broadcast of Truman's every move captured by hidden cameras. Cristof tries to control Truman's mind, even removing his true love, Sylvia, from the show and replacing her with Meryl. As Truman gradually discovers the truth, however, he must decide whether to act on it.
– credit
---
No review can do this movie any justice. Not knowing that your life has been on camera since you were born and that it has been broadcasted on national television is really creepy?? It's basically enough to send me into an existential crisis. Just saying.
At first, I was really hesitant about watching this, like "this is an old movie, so is it going to be any good" type of feeling. Watching "The Truman Show" reminds us to never take anything for granted and that each day is precious. Truman's spirit and determination blew me away, and I can't believe that it played such an important part in freeing himself.
Just as a slight warning: like I said, it sent me into an existential crisis, and after I finished watching this I jumped up from the couch and started looking around, like has my whole life been a lie too 😂

となりのトトロ (My Neighbour Totoro) // 1988
                                                              Synopsis
My Neighbor Totoro is a 1988 Japanese animated fantasy film written and directed by Hayao Miyazaki and produced by Studio Ghibli. It follows the story of two young daughters of a professor and their interactions with friendly wood spirits in postwar rural Japan.
– credit
---
I think that this was the first anime film I ever watched (and that was a long time ago I am a grandma), but the whole movie is still crystal clear in my mind. I don't know, but I think I must have re-watched this more than 5 times, the last being a few months ago??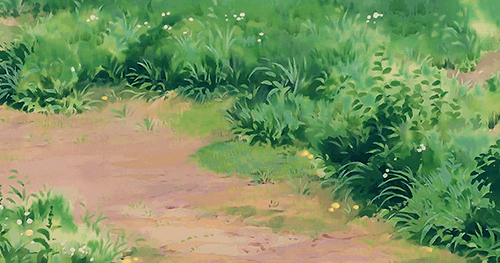 This whole movie was just so cute and touching. Basically, it's meaning is that we can still have hope even through the toughest times and that there will always be someone there to support you along the way. I can't relate to it anymore – with real-life experiences, I know that it is so true. I have so much love for Totoro and all films by Studio Ghibli… I can't. WE NEED MORE MOVIES LIKE THIS IN THE FILM INDUSTRY.
And also, I really need a Totoro right now, like please just come into my life and hug me?? *reminds self to buy human-sized Totoro stuffy*

The Imitation Game // 2014
                                                             Synopsis
Based on the real life story of legendary cryptanalyst Alan Turing, the film portrays the nail-biting race against time by Turing and his brilliant team of code-breakers at Britain's top-secret Government Code and Cypher School at Bletchley Park, during the darkest days of World War II.
– credit
---
Okay, first of all, it's Benedict Cumberbatch, so what's not to love 😂 He is SUCH a great actor and human being, let's just take the time to appreciate *claps* I'm a big fan of history (I know, I know, such a nerd), and I've been intrigued by WWII ever since I was a potato seedling new potato joke ayyy.
There was something about this one that hit me really hard. Seeing him accomplish so much – basically saving England – yet suffering on the inside just broke me. His determination left me in awe, and honestly, we need more people like Turing and his spirit. Seeing him change from the start of the movie to the finish was amazing – I just wish that he was still with us today.
I guess that's history – filled with horror yet beauty in which shape our world today.
---
have you watched any of the movies above? what films have you watched before that was life-changing for you? how's school so far for you? should I do more posts like this? did you cast a vote above? (please do!!)