This may be the start of a memorable bookish year.
Of all the things that are going on in my life right now, I can confidently say that books are having a positive impact. Since I decided to settle in and stick with blogging about lifestyle, insight, and books, I've made it one of my main blog goals to post more bookish related content this year. What better way to start off my book blogging journey here than with some mini reviews?
Today, I'll be sharing some honest thoughts about some recent books I have read. Also! If you have a goodreads account, you are definitely more than welcome to drop a link below and let's share our love for YA literature together 🙂
Let's dive right in, shall we? *hup*
To All the Boys I Loved Before

by Jenny Han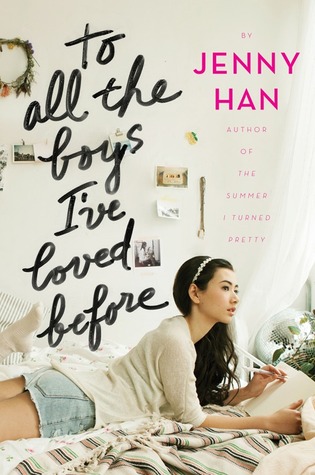 To All the Boys I've Loved Before is the story of Lara Jean, who has never openly admitted her crushes, but instead wrote each boy a letter about how she felt, sealed it, and hid it in a box under her bed. But one day Lara Jean discovers that somehow her secret box of letters has been mailed, causing all her crushes from her past to confront her about the letters: her first kiss, the boy from summer camp, even her sister's ex-boyfriend, Josh. As she learns to deal with her past loves face to face, Lara Jean discovers that something good may come out of these letters after all.
I'm sure y'all are aware of the hype surrounding TATBILB, especially after Netflix released it's original film, starring Lana Condor, Noah Centineo, Janel Parrish, and much more. Seeing that SO many people, especially the ones my age, loved reading this, so of course, I thought that I'd enjoy it too.
Now, it's not that I didn't like it, no. It was SUCH a fun read, and I enjoyed the whole time reading it – definitely a page flipper. But the "eh" part for me was that personally, it didn't live up to the hype?? I just couldn't find myself to be completely invested into the novel as much as I had anticipated it to be. However, it was so darn cute, with the right amount of fluff… will be borrowing book 2 soon!
Oh, and Kitty was a total mood, 1000000% my fav character in TATBILB. SO much love for her 😭
final verdict: ★★★★☆ (3.5)
The Program

by Suzanne Young

I am not going to add the cover nor the synopsis, because those few chapters are the ones I wish that I could unread. You know some books you just have SO much anger for them and you can go on a full 10 hour salty rant about it? This is not even one of those books – "The Program" is just one thing I want to unread and forget about.

I don't even know why I decided to pick up that book. I told myself again and again not to, because I know that it's going to bring up some things that happened in the past, and it's not going to end well for me. But being a stubborn child, I did it. And I read it, even though I kept on telling myself to stop.

Whenever I think about those few chapters, it just makes me… really sad. Down. Scared. Numb. This is the DNF I was talking about. I'm going to stop talking about this, because all I want to do is to forget that experience and move on.
Broken Things

by Lauren Oliver
It's been five years since Summer Marks was brutally murdered in the woods. 
Everyone thinks Mia and Brynn killed their best friend. That driven by their obsession with a novel called The Way into Lovelorn the three girls had imagined themselves into the magical world where their fantasies became twisted, even deadly.
The only thing is: they didn't do it. 
On the anniversary of Summer's death, a seemingly insignificant discovery resurrects the mystery and pulls Mia and Brynn back together once again. But as the lines begin to blur between past and present and fiction and reality, the girls must confront what really happened in the woods all those years ago—no matter how monstrous.
I don't think I'll ever be able to express the amount of respect and appreciation I have for mystery novel authors. Coming up with a plot, a mystery that actually makes sense, creating a world suitable for the characters without making everything too cringy and repetitive? Yeah, that's hard.
"Broken Things" is written definitely in the typical Lauren Oliver style. Even though I may not give a 4-5 star for each of her books, her writing has always been able to catch my attention (aka a page flipper). I didn't feel any connection to the characters, but I felt that the plot was executed really well – a good mystery. Though, I'm not sure if this is just me, but I feel like this is really similar to what happened in 2014 in Waukesha, Wisconsin.
final verdict:  ★★★☆☆
Believe it or not, my 2nd blogiversary is actually coming up very soon! I'm still in shock as to how I've been blogging for this long, and that two years have passed. Blogging is now an extremely important part of my life, and it has also helped and taught me things in ways I never could have imagined.
I actually did a Q&A back in August 2018 and a survey last March, so I believe it's long overdue for both! Why not do it in light of the blogiversary?
To end off this post, here is the survey/Q&A form for y'all! I foremost respect your privacy, so you don't have to fill out your email, or name if you don't want to – completely anonymous! If you could take a minute or two to fill out these forms, it would mean so much to me <33
would you like more mini reviews in the future? ideas on what I should do to celebrate my 2nd blogiversary? comment away! I can't wait to see your feedback and answer your questions! many loves <33