Hello there, dear blogosphere.
I have *yet* again disappeared from blogging in general again this month, and to be honest, it feels SO good to be back. A lot has happened these two months, and changes are coming soon. Honestly, still can't believe that it's almost June aka end of the school year… is it just me or is it that 2019 has been unbelievably fast?
Anyways, enough of me rambling. Let's just dive right into this post, shall we?
So!! Yes, the "plans for the future" are for my blog. I can't believe that I'm really doing this, but like I mentioned two posts ago, I'm moving on. In case you, my dear friend, didn't read that post, don't worry – I'll briefly summarize the main idea. 
Basically, for awhile now, I don't feel like my blog name (which also includes the url) represents what this blog, or who I am as a person/blogger any more. In that post, I said that I wasn't sure yet if I just wanted to keep posting on this blog and change the name and url or keep this blog but start posting on a new blog, with an already new name and url.
Whew that was a long sentence 😅 Anyways, I've thought this through clearly now, and I've made my decision as to what I believe is in the best interest of the future as a blogger. I now know that I want to keep this url. I want this blog to stay the same. Because I can't imagine letting this one go, and have this identity and name disappear. I started this blog when I was going through a rough time, and the name "Free Perspectives" meant something to me then. Even though it doesn't show what I want to represent anymore, the name still means a lot to me for sentimental reasons.
Therefore, in the near future, I will start blogging on a new site. Of course, I will not be deleting any post from here, or this site at all; I will be keeping this up. Technically the new blog isn't completely new – for some apparent reason I have 3 other urls under my username that I just never used, so I went ahead a changed one of them to my new name 😂 Anyways, I'm planning to transition over to the new site around the end of June to the start of July, so there's still some time. The design is still work in progress, so hopefully when that time swings around where I actually will have more time, it'll be okay.
《 posts in april 》
《 posts in may 》
i've been thinking about… [insert everything] // life updates + the future of this lil blog
↬ fashion show
I have no idea how but I did it?? Survived?? It's just that I almost tripped over my gown on stage plus I was wearing heels so… yep. Through this program, I got to know people and made some amazing, beautiful friendships. Ugh, I love them 😭 Next year I'll be designing my own collection, and since I will be "actually" competing (this year's was just so I could get used to it), I'll be aiming to reach at least the provincials. Anyways, fashion show is over, and what really got me through it was my friends *cries yet again*
↬ dance
Your girl put on makeup by herself for the first time! My skin… didn't appreciate me putting artificial substances onto it so that wasn't fun, but I think I did okay. Surprisingly, the recital/show went really well! Our routine changed the day before the actual show (at the dress rehearsal) because one of us couldn't make it last minute, but somehow my classmate and I pulled it off. I'm really proud of us :))
♪ april playlist ♪
o c e a n s  d r e a m e r s ~ Sunlight-91
The Wilhelm Scream ~ James Blake

マリーゴールド ~ あいみょん (Aimyon)

first snow ~ KΞЯUSU
NASA ~ Ariana Grande

シンクロニシティ ~ 乃木坂46 (Nogizaka46)

but you were not the one for me (SZA x Bryson Tiller Type Beat) ~ yusei
lovely ~ Billie Eilish, Khalid
《 what i read in april 》
Our Year of Maybe // Rachel Lynn Solomon ★★★★☆ (3.5/5)
It was a beautiful book, with a gorgeous cover (had to mention that), but I think I gave it a 3.5 rating is because it just simply didn't feel like my "type" of book? Not sure if that made any sense. No criticism at all, this is just something that isn't my style.
Darius the Great is Not Okay // Adib Khorram ★★★★★
Hi, Kimberly finished this book as she waited for her dentist and almost cried. We love that 👏
On a serious note, it's true: was so close to shedding a smol tear, and my heart is just?? Love the representation and diversity in this novel, and even though it's a debut, I don't think I will ever forget Darius, Sohrab, and their beautiful friendship.
Unravel Me // Tahereh Mafi ★★★☆☆
I… have complicated feelings for this book, and this entire series. It's just one of those books (kinda like Shatter Me, book 1) where I didn't really enjoy it but needs to find out what happens next. Gotta say, my favourite characters would have to be Kenji and James. I know that fandom is all in for the ship "Warnette", but the amount of romance in this one was too much for me.
P.S I Still Love You // Jenny Han ★★★☆☆
Cute, sweet, nice lil contemporary. To me, there wasn't that much of a plot difference between this one and TATBILB, which is somewhat disappointing. Josh? John?
As always I'm all in for their realistic, beautiful relationship between the sisters.
《 what i read in may 》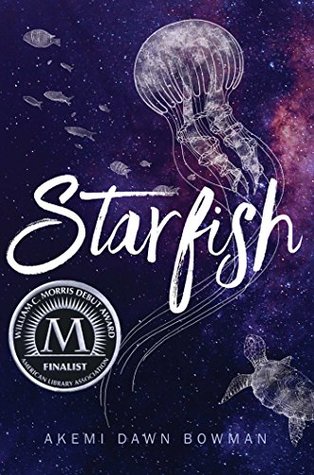 Starfish // Akemi Dawn Bowman ★★★★★ (reread)
My second time reading and I'm still in love, still almost cried, my heart!! I noticed several things that I missed from my first time reading it, so I think that I'll do a discussion post about it? Anyways, LOVED it, and will always remain on my fav books list.
blog
3+ posts ✓✗
respond to comments faster ✓
be more active in the blogosphere ✗
life
survive making the gown + skirt ✓
be nicer to myself and take more breaks ✓✗
drink more water ✓
reassure myself I'll be okay *silently screaming* ✓✗
reading
read 4+ books ✗
post a bookish related post on blog ✗
post a shorter book review on Goodreads ✗
blog
finish the new blog design elements 😉
3+ posts
respond to comments faster
be more active in the blogosphere
life
start using my bullet journal again
start stretching + do tumbling more
drink more water (or drink less tea *cries*)
practice deep breathing more
keep up with final online assignment schedule
reading
read 4+ books
plan a bookish discussion post
↬ summer break
Why is 2019 going by so fast (aka please stop)?? Can't believe summer is fast approaching – I might have a "job" for my textiles teacher, and I'm starting 2 of my courses early for next year. With the extra time on my hands, I hope that I will be able to spend more time exercising and stretching, blogging, and of course: reading.
---
how was your may? is it summer for you already? any books you have read recently that you would recommend? thoughts about the upcoming blog transition? comment away :))